The Japanese International Cooperation Agency (JICA) in Mexico on Monday, Oct. 26, informed the National Institute of Public Health (INSP)/ESPM, that a ESPM alum is a candidate in its scholarship program for a doctoral degree in medicine at Juntendo University of Japan.
Through the Office of the Technical Cooperation Program (Health Sector), Professor Eiji Araki of JICA Mexico, informed the Academic Exchange Department at INSP that, after reviewing documents and several interviews with candidates in our country, they selected Sandra Luz Valdez Ávila as a scholarship candidate. She is a graduate of Specialty in Preventive Medicine (Class of 2020) and received a Master's in Public Health (Class of 2019).
The JICA scholarship covers the full cost of annual enrollment, tuition, travel and living expenses in Japan. Upon passing the admissions exam scheduled for next year, Valdez Ávila's doctoral studies are slated to begin in April 2022.
In an interview with the Academic Exchange Department, Valdez Ávila shared her experience with ESPM: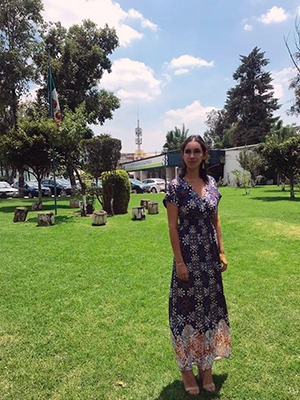 How did you learn of the scholarship program?
"I received an email that INSP Academic Secretariat dissemination division sent to the student community, informing us about the possibility of obtaining a scholarship to study a Doctorate in Medicine at the University of Juntendo, as well as the necessary requirements for the application to said program".
Why did you apply?
"As a surgeon with public health and preventive medicine training, I firmly believe that primary care and health promotion are fundamental for the improvement of health systems and ultimately to improve people's lives, so obtaining a PhD in preventive medicine has always been one of my career goals. However, the possibility of studying abroad was not within my options until this important opportunity; being able to study and learn in a country so well developed in all areas and with one of the most efficient health systems, represents not only a great challenge on a personal level but also will contribute in multiple ways to one of my main objectives, which is to become a professional capable of promoting preventive medicine and public health in Mexico, to improve the quality of life of our population ".
What was the process of applying?
"The first thing I did was to send my application form to JICA Knowledge Co-Creation Program (KCCP). Once they checked my application and documents, I had an interview with the Officer of the Technical Cooperation Program (Health Sector) and with the director of University of Juntendo.  I explained to them my reasons for wanting to enter this program, as well as the topic of research that I intend to develop during my stay. After this, they informed me that I had been selected as a candidate to obtain the scholarship, as well as the next steps in the admission process".
What did you feel when JICA Mexico informed you its decision?
"I felt very happy and grateful, both with JICA and with the INSP, who supported me throughout the process and always showed a great willingness to resolve any doubts I may have had."
What are your expectations about this program?
"Acquire experience, knowledge and new skills that allow me to improve both the professional and personal fields, in order to contribute to the Mexican Health System and INSP development."
The INSP/ESPM are proud of their graduates and wish success to Valdez Avila in this endeavor.